In Year 5, we embrace the school values - REACH.
We strive to be the best we can be, enjoy making the most of a variety of learning opportunities and have fun during our time together at school.
"I have come that they may have life and have it to the full!" John 10:10
We support each other to grow, and reach our potential.
In Year 5, we are supported by:
Mrs Territt - Class Teacher
Miss Roads - Teaching Assistant
On our class page you will find useful documents (see folder) relating to:
our timetable

useful resources including recommended reading lists and links to websites to support learning in school, and

home learning

relevant notices for upcoming Year 5 events.
As always, if you have any questions at any time, please do not hesitate to speak to us.
Please follow this link for the Parent Information presentation for Year 5.
Autumn Term
This term, our topic will be studying World War 2. The children will learn when and why World War II began and find out about the key individuals and countries involved - developing their geographical knowledge. In addition to this, they will discover all about evacuation; learn what it was like to live with food rationing and explore the contribution made by women to the war effort. y. Studying World War II will help children
to develop their investigation and evaluation skills; learn to organise information chronologically and understand how past events (causes) have helped to shape the world we live in today (consequences).
In Science we will be studying Animals including Humans - focussing on the Circulatory System; developing skills in scientific enquiry.
During our Maths lessons, we shall consolidate prior learning, building on this to to cover Year 5 objectives focussing on the following:
Read, write, compare and order numbers up to 1 000 000; read Roman numerals to 1000; read, writeand interpret negative numbers.
Round integers to powers of 10, round decimals to 2dp, order decimals to 3dp
Multiply and divide whole numbers and decimals by 10, 100, 1000
multiply and divide numbers mentally
Recognise and use square and cube numbers

identifying factors and multiples, know and use prime numbers
Develop formal methods of calculation in all four operations
Please see the helpful links file for activities and games that will support these areas of learning.
It is important the children in Year 5 are confident in their times tables knowledge, as speed and accuracy in recalling these has a great impact on their ability to access the Year 5 maths objectives that involve more complex calculations. Children should continue to practice recall of these at speed to aid in accuracy when performing calculations.
In English we will continue to read the novel Friend or Foe by Michael Morpurgo that follows the story of two evacuees during WW2. Reading comprehension and writing skills be developed around the enjoyment of this text.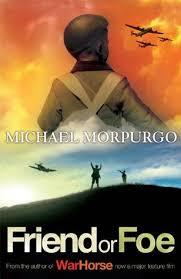 Our PE days during the Autumn Term will be on Monday and Wednesday - children should come into school in their PE kit on those days.
Home Learning
Learning, and then practising applying times tables (Mathshed)

Regular reading (both independently and with an adult) - see reading tips file for useful questions to prompt discussion and develop comprehension skills.

Spellings with an associated task will be set weekly on a Monday on Seesaw. These should be practised throughout the week, and will be tested in class the following Monday.
The home learning grid for this term has been set in Seesaw.
Follow this link to view useful tutorials for different strands of maths that your child may need to consolidate. Year 5 | White Rose Maths You may wish to refer back to previous year groups if some aspects still need practising.